We have a wide range of picture quizzes and as the most popular part of each quiz, this is the round that you can make most impact with.
Each quiz round features 20 (usually ) pictures for teams to identify on an A4 sheet.
Our picture quizzes are full colour sets of 20 pictures covering everything from Famous Faces, Film Stills, TV Adverts, Mystery Objects and more.
All photos are fully licensed for use in a pub quiz and rounds cost £2.50
picture quizzes – where you can purchase and download instantly online or click for a thumbnail of each picture quiz round along with a description of each.
If you haven't got one download the Adobe Reader here free of charge
*****
Our picture quizzes have been designed so teams can write answers on them – so now can be used as part of a standard quiz night or as a standalone handout quiz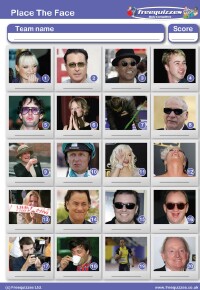 Click the picture to download a FREE sample of picture quiz format
When you purchase the quiz all you need to do is print off one copy per team – we suggest where possible printing a colour copy – the quality is better and it adds a touch of class to your quiz.
Should you require us to laser print colour copies for you, we can post them to you at an additional £4 per quiz (£6.50 per round) which includes 15 printed colour copies. Please select the postal option from the checkout or call us 01785 214529 for this option.
To purchase picture quizzes – click the banner
New section uploaded – 10 picture quizzes for just £1.50 – click here for details
All photos have been licenced for use in a pub quiz and remain the copyright of Instant Quizzes Ltd – picture quizzes are licenced for printing by the purchaser and use in one venue on one night only. For multiple use or other uses, please contact us.